Christmas films are arguably the best part of the holiday season – here are 12 to get you in the spirit!
Well, Hearties, it's hard to believe we're here – December. Where on earth did 2017 go? If you've been into any shopping centre in the last month, you'll have seen (and maybe even heard) the telltale signs of the summer holiday season approaching. Tinsel, plastic trees, twinkle lights for days. Yes. Christmas is a-comin'.
To help you get through the impending over-commitment to joyousness, we've stockpiled 12 of our favourite Christmas-ish films for you to watch while wrapping gifts, while mulling wine, even while grinching!
Speaking of the Grinch… our first sleigh off the rank is:
credit: gfycat 'Hair Goals!'
On the outskirts of Whoville, there lives a green, revenge-seeking Grinch who plans on ruining the Christmas holiday for all of the citizens of the town.
'As a child, I used to watch this and think it was hilarious. Now I watch it and realise my personality is the Grinch and the film's not as funny. Still, Jim Carrey!' Jemma, Publicity
'After watching How the Grinch Stole Christmas, my daughter insisted on having her hair done Seuss style.' Louise, Managing Director
credit: gfycat
In the year leading up to the 1904 St. Louis World's Fair, the four Smith daughters learn lessons of life and love, even as they prepare for a reluctant move to New York.
'Who doesn't love a musical Christmas movie? Judy Garland is at the peak of her career in this gorgeous film and it produced the hit 'Have Yourself a Merry Little Christmas'. Turn this one on when you want a cosy night in with your loved ones.' Sarah, Marketing
'The Trolley Song saved my life during a particularly terrifying cab ride several years ago (don't ask), and for that alone, Meet Me in St Louis goes on my list. I also ADORE the utterly flawless costume design throughout this film, and of course, darling Judy Garland can do no wrong by me.' Stacey, Australian Publishing

credit: uproxx
The Muppets tell their version of the classic tale of an old and bitter miser's redemption on Christmas Eve.
'Christmas + Muppets + Singing + Michael Caine. Enough said. What can't the Muppets do? If you are still saying 'bah humbug' after you see Robin the Frog as Tiny Tim you are worse than Scrooge!' Sarah, Marketing
'Grew up with this old favourite. Love me a feel-good comedy-musical with a literary edge. Michael Caine said this was 'the greatest puppet-based holiday film of all time' – couldn't have put it better so I won't.' Christine, Marketing
'Michael Caine. Charles Dickens. The Muppets. Do I really need to say more?' Andrew, Sales & Product
And we continue the love for Dickens adaptations with: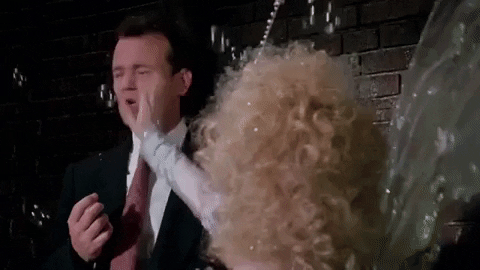 credit: giphy
A selfish, cynical T.V. executive is haunted by three spirits bearing lessons on Christmas Eve.
'I love a story of transformation, particularly when it's an arrogant someone who realises the error of their ways with the help of a mystical Christmas ghost, and that ends with rediscovered romance and long-suffering associates finally getting some slack. Also... Bill Murray!' Louise, Marketing
credit: freeform
Santa's clumsy son Arthur gets put on a mission with St. Nick's father to give out a present they misplaced to a young girl in less than 2 hours.
'What's not to love about James McAvoy in Arthur Christmas?' Louise, Managing Director
'This is one of the most underrated Christmas films of the last few years – Jim Broadbent as Santa is everything you could possibly want AND MORE.' Stacey, Australian Publishing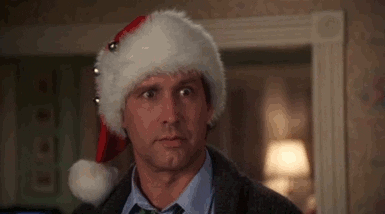 credit: giphy
The Griswold family's plans for a big family Christmas predictably turn into a big disaster.
'Because of the genius that is Chevy Chase, just before his career went to muck. Ditto Randy Quaid (ok, his career is basically solid muck but this is peak Randy Quaid). Also, look out for a cameo by Julia Louis-Dreyfuss pre-Seinfeld fame.' Andrew, Sales & Product
credit: giphy
Bernard (aka David Krumholtz) went on to perform Shakespearean cosplay in 10 Things I Hate About You which is sadly not a Christmas movie but let me talk about Heath Ledger codsarnit!
When a man inadvertently kills Santa on Christmas Eve, he finds himself magically recruited to take his place.
'The love between father and son in this movie is so precious and it is my go-to feel-good family movie. Tim Allen is amazing. Plus I 100% had the hots for Bernard [pictured] when I was little.' Jemma, Publicity
8. Elf (2003)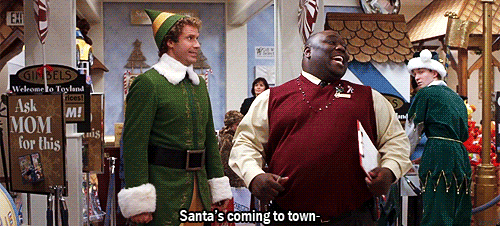 credit: giphy
After inadvertently wreaking havoc on the elf community due to his ungainly size, a man raised as an elf at the North Pole is sent to the U.S. in search of his true identity.
'There's something about Buddy (Will Ferrell)'s genuine naivety and overwhelming enthusiasm that makes me grin. This is the ultimate movie for bringing out my Christmas spirit each year!' Alana, Publicity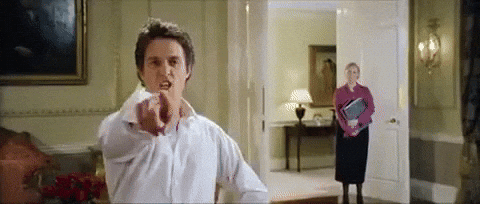 credit: giphy
Yeah, this was cinematic perfection tbh. NEVER CHANGE!
You didn't think we'd leave this one out, did you?! Follow the lives of eight very different couples as they deal with their love lives in various loosely interrelated tales, all set during a frantic month before Christmas in London.
'Do I need to say more other than I feel it in my fingers; I feel it in my toes?' Jemma, Publicity
'I watch this little gem almost annually, it has it all love, heartbreak, cuteness, laughs and Hugh Grant when he was in his most appealing stage (sadly the sheen has lessened over the years). Was beyond excited with the short epilogue created for Comic Relief/Red Nose Day. BUT I never, EVER, want to ever see a sequel or a remake.' Christine, Marketing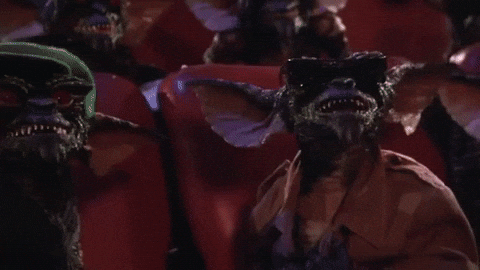 credit: giphy
A boy inadvertently breaks three important rules concerning his new pet and unleashes a horde of malevolently mischievous monsters on a small town.
'First of all, Billy Peltzer is a total fox, as is Phoebe Cates of Drop Dead Fred fame and I had equal crushes on both of them (I still do tbh). Second, introducing my nephew to the perils of eating after midnight was one of the better moments of Christmas 2016. Third, EVIL FURBIES! The mayhem is just delightful – I still curl up and watch some scenes from behind splayed fingers. And finally, this classic Simpsons exchange would not have been possible without Gremlins, so thank you Senor Spielbergo.' Stacey, Australian Publishing
credit: make a gif
An eight-year-old troublemaker must protect his house from a pair of burglars when he is accidentally left home alone by his family during Christmas vacation.
'With a child being forgotten by his family and left home alone to face two robbers hell-bent on ruining Christmas, you wouldn't necessarily call Home Alone a typical Christmas movie but I absolutely loved it as a kid (still do). It's hard to not laugh as Kevin's plot to thwart the robbers becomes CRAZIER and CRAZIER. A definite must watch for kids young and old!' Alana, Publicity
'Imagine how we could turn our homes into a fortress with household items. Almost makes me want to have a standoff with two hapless burglars.' Louise, Managing Director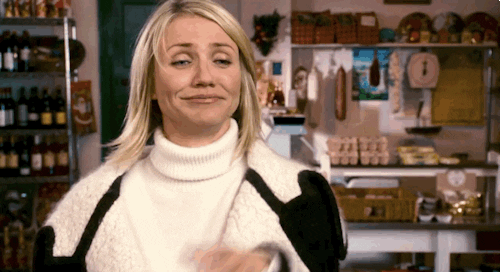 credit: giphy
Two women troubled with guy-problems swap homes in each other's countries, where they each meet a local and fall in love.
'Jude Law, carrying his glasses, crying over Cameron Diaz leaving. TAKE MY MONEY AND GO. Also, Jack Black kills it as the romantic underdog.' Jemma, Publicity
'The loveliest single-gal-at-Christmas rom-com since Bridget Jones. Cameron Diaz's drunken rendition of Mr Brightside is worth the ticket price alone, but BONUS Kate Winslet shines opposite (the incomparable) Eli Wallach, and Jude Law as bookish Mr Napkinhead? Too good! If I were to jump on the twitter bandwagon and recast though? Michaela Coel as Iris, Leslie Mann as Amanda, Idris Elba as Graham, and John Cho as Miles. If you've got a better line-up, @ me.' Stacey, Australian Publishing
'An English country cottage and a massive LA pad... lots of lovely clichés, but the transatlantic romance works. Pure comfort viewing.' Louise, Managing Director