Jodi Perry shares the movie moments that made her and her reader's group swoon!
1. The Notebook
source: giphy
When Noah (Ryan Gosling) kisses Allie (Rachel McAdams) in the rain. "I wrote you 365 letters … I wrote you every day for a year." "It wasn't over, it still isn't." Sigh.
We also love the ending. It may not be the happiest ending for us viewers, but it was for them. I watched this movie for the first time earlier this year. I was on the plane coming back from a book signing in America and cried like a baby. I sobbed so much that the air hostess asked me if I was okay.
2. Titanic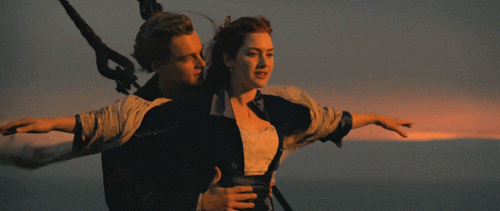 source: giphy
I have always had a fascination with the Titanic, and have so many books on this tragic event. For me, the movie focuses more on the love story of Rose (Kate Winslet) and Jack (Leonardo DiCaprio), but I loved the romantic elements of it. Our favourite scenes in this movie were when they are standing at the bow of the ship, and he kisses her. We also love the scene in the car in the cargo hold of the ship. "Put your hands on me, Jack."
3. Sweet Home Alabama
source: metro
We love how Jake (Josh Lucas) does everything for Melanie (Reese Witherspoon) trying to prove himself to her because he's still in love with her, and in the end, it's her that wants him. "Now why would you want to stay married to a man like me?" "So I can kiss you anytime I want."
4. Pretty Woman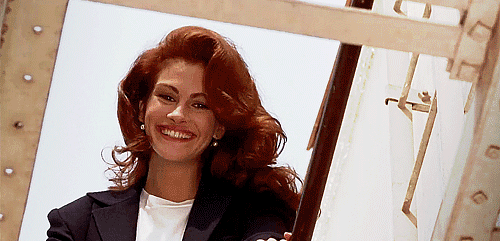 source: popsugar
We love the ending when Edward (Richard Gere) rides up in the white stretch limousine like it's a horse, and climbs up the fire escape to rescue Vivian (Julia Roberts). "So what happens after he climbs up the tower and rescues her?" "She rescues him right back."
5. Me Before You
source: ohthebookfeels
Our favourite scene in this movie is the wheelchair dance scene with Louisa (Emilia Clarke) and William (Sam Claflin) at his ex's wedding.
6. Shrek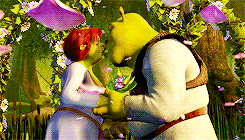 source: giphy
When Shrek tells Fiona if she wants the 'handsome' prince, she must kiss him before midnight, but she chooses the 'real' him instead. I remember watching this at the cinema with my son when he was little. I cried in this scene. When my son looked at me concerned and asked me if I was okay, I lied and told him I had a bug in my eye. To this day when I get teary-eyed, he asks me if I have a bug in my eye and we both laugh.
7. Love Actually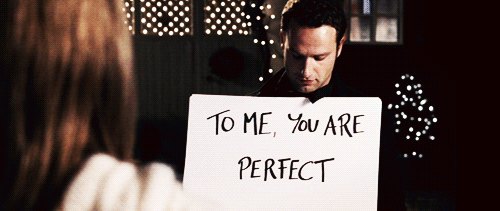 source: whatculture
When Mark (Andrew Lincoln) arrives at Juliet's (Kiera Knightley) house at Christmas time, and holds up those cards to her, professing his love. "To me, you are perfect." Sigh.
8. A Walk to Remember

source: popsugar
Our favourite scenes in this are when Landon (Shane West) dances with Jamie (Mandy Moore) on the balcony, when he names a star after her, and when he builds her a telescope.
9. 10 Things I Hate About You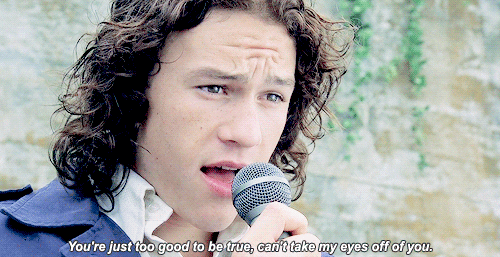 source: giphy
When Patrick (Heath Ledger) sings "Can't Take My Eyes off of You," over the loudspeaker to Kat (Julia Stiles). We also love the poem she reads him.
10. Notting Hill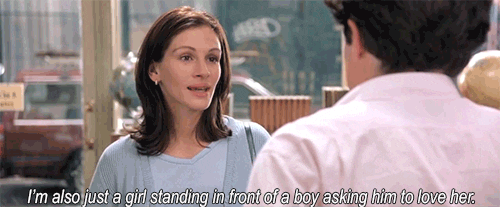 source: https://giphy.com/gifs/drew-barrymore-rl3AkfN7yiLZegiphy
Our favourite scene in this movie is when Anna (Julia Roberts) says to William (Hugh Grant) "I'm just a girl standing in front of a boy, asking him to love her."
Jodi Perry was born in Sydney, Australia, and has lived there her whole life. Under the name J. L. Perry, her last four novels were all number one bestsellers in ebook. Jodi travels annually to the UK and US to promote her books and to meet her many fans. NINETEEN LETTERS is the first novel to be published under the name Jodi Perry.