With the release of Before I Fall on DVD & BluRay, we thought it would be the perfect time to revisit some of our favourite YA movie adaptations!
1. The Duff by Kody Keplinger
source: socksboxblog
Kicking off with a DAB favourite, The Duff – a recent addition to the adaptations list. The Duff has the perfect blend of witty comebacks, swoony kiss scenes (Hello Think-Rock!), as well as some heavy emotional hurdles. Bianca is one tough woman that we want to be friends with!
2. The Hunger Games by Suzanne Collins

source: giphy
Speaking of tough female role models, there aren't many out there that would beat Katniss Everdeen for top spot. Even if the movies made us fall for Gale more than Peeta, making us question our book memories (real or not real??), this was a series we can't help watching over and over again.
3. The Princess Diaries by Meg Cabot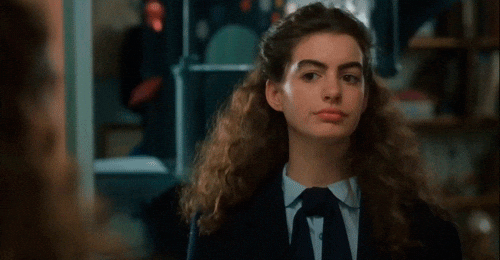 source: giphy
It's no secret that a lot of little girls dream of being a hidden princess, and we got to live the dream through Mia Thermopolis. With kisses that make your foot pop and epic make-overs – there's nothing better than getting to feel a little pampered. The sequel wasn't as teen as the first Princess Diaries movie, but we did enjoy seeing a lot of a young Chris Pine, so we can't complain.
source: pinterest
4. A Walk to Remember by Nicholas Sparks

source: popsugar
Not all YA novels are light and fluffy, sometimes they can be a little dark or emotional – and no-one does emotional like Nicholas Sparks. Okay, his books might not be totally YA, but A Walk to Remember definitely fits the genre. We smile every time Landon stumbles on his lines for the play and when he helps Jamie tick off items on her bucket list. We cry when Landon needs his father and when Jamie walks down the aisle; because love is like the wind, we can't see it, but we can feel it.
(Bonus: The Last Song also works as a Sparks YA book, plus you get to picture Liam Hemsworth shirtless and playing beach volleyball! Yum!)
source: danysalternate
5. The Mortal Instruments: City of Bones by Cassandra Clare
source: chachihelper
It didn't make it to more than one flick, but we really loved The Mortal Instruments movie. Lily Collins is our perfect Clary. She had the height, the vibrant hair and that artsy look that is just classic Clary. Even though they changed the ending and Valentine looked a bit like a mad pirate, we still loved it.
(Bonus: If you're looking for more TMI screen time, try the Shadowhunters TV series!)
source: wifflegif
6. How to Deal by Sarah Dessen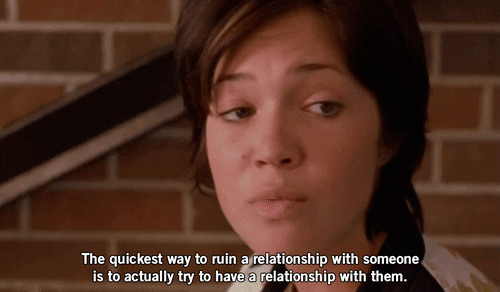 source: loveGIF
One that's probably a little unknown on ANZ shores, but we can't pass up anything Sarah Dessen. How to Deal is a mash up of That Summer and Someone Like You and is super fun in that early 2000's teen throwback sort of way. Mandy Moore does an impressive head-stand and manages to eat chocolate at the same time! We'd try to do the same, but we don't have the skills – best to just eat the chocolate and enjoy Mandy's talents!
7. Twilight by Stephenie Meyer
source: pinterest
We know there might be some groans, but team Date a Book adores the Twilight series. There's something effortless about losing yourself in Bella's vampire journey. From baseball games to ballet studios, trips to Italy and camping in the snow. We can even overlook the crazy baby name combinations if it means getting to see Robert Pattinson smile at the screen and feed our inner fangirls!
8. Harry Potter series by J.K. Rowling

source: giphy
No book adaptation list would be complete without including Harry Potter. We grew up with the magic of Hogwarts on the pages of books to the special effects on screen – not much will beat Harry Potter for best adaptation ever. There are some perfect characters who were brought to life (we're thinking of Alan Rickman as Snape!) and incredible displays of magic and transformation.
(Bonus: The Harry Potter franchise keeps growing. Fantastic Beasts and Where to Find Them is the perfect way to keep living in the Potter world. We want Newt's suitcase – or at least a niffler or a bowtruckle!)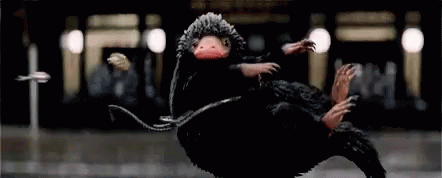 source: GIFkeyboard
9. Looking for Alibrandi by Melina Marchetta
source: oystermag
Our final favourite is an Aussie favourite. That's right: Looking for Alibrandi needs to be watched (and read) by everyone. Another movie with a slightly changed ending, but we loved every scene. Being Sydneysiders, we adore the Harbour views and the scene where Josie and John run through Sydney Uni. Melina wrote Aussie teens on the page with such powerful emotions – and they're just as perfect on screen!
I got my first taste of heart filled books as a YA blogger, before settling down in the Product department of Hachette Australia. I tend to read mostly Young Adult, Urban Fantasy or Paranormal Romance novels – but I'm open to anything with a good hook! My ideal weekend is sitting back with a cup of tea, a new book and a few hours of uninterrupted reading time.